Our Veterinarians
From our Veterinarians to support staff, River Road Pet Clinic provides the highest level of companion care and customer service you'll find in Tucson. Our goal is to exceed your expectations on every level and deliver top-quality care to each patient.
Dr. Richard Panzero​
Dr. Panzero is a native Tucsonan. He attended Rincon High School and earned a Bachelor's degree in Animal Health Science from the University of Arizona in 1982. He received his Doctorate degree at Colorado State University in 1986 graduating with high distinction. He then returned to Tucson and worked at a small animal practice for 2 years. He opened River Road Pet Clinic in 1988.

Dr. Panzero has been active in many animal-related community events during his career. He is a past President of the Southern Arizona Veterinary Medical Association and is the 2013 President of the Arizona Veterinary Medical Association. He has participated in several clinical trials of various vaccines and published a paper on the safety and effectiveness of the Feline Infections Peritonitis vaccine. He served on the Pfizer Biological Advisory Panel for four years.

He has earned membership in the Arizona Academy of Veterinary Practice for over twenty years running. To earn membership in this academy a Veterinarian must complete 50 or more hours of continuing education each year. Dr. Panzero has also served as a board member for this academy.

Dr. Panzero is grateful for the strong and loyal following that has allowed him to steadily grow River Road Pet Clinic into the multi-doctor practice it is today. His special interests include orthopedics, dental and soft tissue surgery and rabbit medicine.

His household menagerie includes two dogs, a cat, several desert tortoises and saltwater fish. His hobbies include family activities, travel, gardening, fishing and following his beloved Arizona Wildcats.
Dr. Sean Crocker
Dr. Crocker was born in Dallas, Texas but has been in Tucson since he was 13. He attended Ironwood Ridge High School and earned his Bachelor's Degree in Veterinary Sciences from the University of Arizona in 2008. He earned his Doctorate in Veterinary Medicine from Colorado State University in 2012. He returned to Tucson after graduation and has been in small animal practice here ever since. His interests in veterinary medicine include dentistry, preventative medicine, soft tissue surgery and pain management.

Dr. Crocker enjoys working with clients to ensure a strong human-animal bond between us and our pets. He believes in tailoring treatment plans to each individual patient and client's needs. While attending Colorado State University, Dr. Crocker obtained certification in veterinary acupuncture at the school's Medical Acupuncture for Veterinarians course. Acupuncture can be a useful adjunctive therapy for a number of chronic painful conditions ranging from osteoarthritis to intervertebral disc disease, especially in those patients sensitive to traditional medications.

When he is not working, Dr. Crocker enjoys spending time with his family. He enjoys attending University of Arizona sporting events and is an avid sports fan. He also enjoys traveling, exercising, and spending time with his Irish Setter, Kobe. Dr. Crocker and Kobe have done agility training and have shown in confirmation.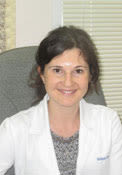 Dr. Melanie Olson
Dr. Melanie Olson grew up on a dairy farm in a little village located about 4 hours north of Quebec City, Canada There, she developed a strong bond with animals and knew at a young age she wanted to become a veterinarian. She attended veterinary school at the University of Montreal. After graduating in 2000, she moved to Arizona to pursue a one-year internship in a surgical specialty practice. After finishing her internship and not wanting to return to the cold climate she made Tucson her home and became a US citizen. In 2007, she left a traditional position to pursue her own business providing relief veterinary services for small animal practices around town.

In September 2015, she joined River Road Pet Clinic as a part-time veterinarian. Dr. Olson enjoys all aspects of veterinary medicine with a special interest in internal medicine. She has successfully managed her own chronic health condition for almost 25 years. This experience has significantly helped shape the way she approaches veterinary medicine. She sees the balance between medicine, nutrition, and environment as being critical to achieving optimal health of the patients while maintaining a compassionate understanding of their caregivers. She enjoys interacting with clients and helping them understand the examination findings and treatment plans whether it be for preventive care or work up of a serious illness. She is passionate about sharing her knowledge with staff and pet parents, working with them as a team in order to achieve a common goal of patient wellness.

While away from work, she enjoys the spending time outdoors tending to her desert plants, running and reading. She shares her home with a wonderful husband, Shane, and 3 beautiful fur babies, "Sailor Moon", "Abby-Lou" and "Petunia".