Exotic Animal Care
Exotic pets are fascinating animals that can enrich our lives and broaden our understanding of the animal kingdom and the world we live in. To properly care for exotic animals we need a thorough understanding of natural behavior, environment, and diet. Many exotic pets are prey animals and they are experts at masking their feelings and hiding illnesses, so as not to become a target for a predator. With regular veterinary examinations, we can establish baseline weights, identify body condition, discuss diet, housing, and environmental enrichment. All are important in providing responsible care of our exotic companions.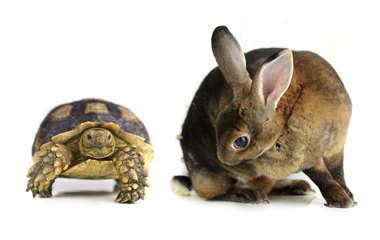 Rabbits
Rabbits can make intelligent, friendly and quiet house pets. The average lifespan for a bunny is 7 to 10 years with records of up to 15 years of age reported. The following information is provided to help you enjoy a happy, healthy relationship with your little friend. In addition to this handout, there are a number of excellent books on the topic of rabbit health care that you may wish to consult.
There is a lot of false information out there about how to properly care for rabbits, especially on the internet and sometimes from pet stores, so make sure to see a veterinarian regarding proper care, caging, bedding and diet before buying all the "wrong stuff." There are only a few veterinarians in Tucson that specifically care for rabbits and other exotic pets, so make sure to find the right veterinarian before your rabbit gets sick!