About River Road Pet Clinic
River Road Pet Clinic is a full service veterinary facility located in Tucson, Arizona's north side offering complete medical care for companion animals. Our practice serves dogs, cats, rabbits and small mammals with excellence and care. Our focus on high care and a superior experience have continually grown our practice year over year.
River Road Pet Clinic offers top quality wellness, medical, surgical and dental care for all our patients. We also feature advanced monitoring capabilities for post surgical procedures to ensure a higher level of safety and care.
Let us show you the difference in service and quality that we offer you and your pets today – give us a call at 520-577-3100 or click here to email us and we would love to set up an appointment!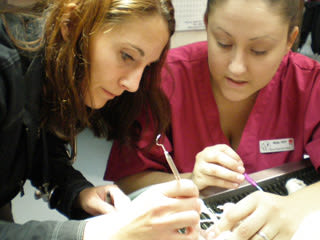 Our Mission
We, the staff of River Road Pet Clinic, believe that our ethical and professional responsibility is to provide our clients and patients with the best quality care, comprehensive client education, and compassionate emotional support. Further, we strive for ongoing personal growth and continuing education in a supportive, team-oriented environment.
Our Promise
We understand the special role your pet has in your life and we are dedicated to becoming your partner in your pet's health care. We treat your pet as we do our own. Our goal is to provide the highest quality medicine with compassion and an emphasis on client education.

We strongly believe education and communication are vital aspects of good veterinary care. Our commitment to you is that the job of caring for your pet will not begin and end at our door, but will be an ongoing process. We believe this sets us apart from other veterinary practices.

We Promise to Provide:
A clean odor-free environment for you and your pet. When accidents occur, we will clean them immediately.
Outstanding veterinarians and support staff, all committed to lifelong learning and client service.
Compassionate support for both you and your pets.
Thorough answers to all of your questions during your pet's appointment.
A Medical Care plan, including estimated costs, before beginning procedures or treatments.
We will never be too busy to see your pet if you believe it is an urgent situation.
Follow-up contact after your appointment, to check on your pet and ask if you have additional questions.
If we fail to fulfill any part of our promise to you, please let us know immediately.
If we meet our promises to your satisfaction, we ask that you let others know about the great service you are accustomed to.